SAVE THE DATE FEBRUARY 11, 2023 OUR ANNUAL OYSTER ROAST!
Community Recycling Event is Saturday, Nov. 12
Keep McIntosh Beautiful is sponsoring a Community Recycling Event on Saturday, November 12, from 9 a.m. – 1 p.m. at the former Oak Grove Intermediate School located behind McIntosh Middle School at 500 Greene Street, Darien.
Take advantage of this opportunity to clean out your attic, garage, basement, and yard just in time for the holidays! Bring your "stuff" for reuse and recycling and keep it out of our landfill.
Our partners for this event are Glynn Iron and Metal, Goodwill of Southeast Georgia, McIntosh County Schools, Sensible Recycling, and Waste Management.
Being collected for reuse, recycling, and safe disposal are: electronics of all kinds, including computers, mouses, phones, flat-screen televisions (NO tube TVs), printers, copy machines, modems, keyboards, and lithium batteries, as well as ink cartridges; household goods including textiles (not clothing), scrap metal of all kinds (including old appliances, motors, and car parts), batteries and CFL and fluorescent tube lights up to 4 ft. in length only.  We cannot accept 8 ft. long tubes.
WE WILL NOT BE COLLECTING: paint, household and yard chemicals, or other hazardous materials. For information and advice about ways to safely dispose of these items, visit https://epd.georgia.gov/about-us/land-protection-branch/hazardous-waste/household-hazardous-waste
As noted above, we can no longer accept tube TVs or 8' long fluorescent tube lights.
Assistance will be available for unloading items and materials from vehicles.   Each participant will also receive an updated McIntosh County Recycling Guide, listing where a wide variety of items and materials can be taken for reuse or recycling in our area.
"Finding ways to reuse items or recycle them is more important than ever," says Darlene Garner-Fuller, KMB executive director. "Our local landfill will reach capacity in only a few years, but recycling and reuse can help our landfill last longer. Through events like this, KMB wants to encourage recycling and make it convenient for residents and small businesses, too."
Still, have questions?  director@keepmcintoshbeautiful.com or call 912-289-1083.
KMB's Community Recycling Collection Event is a local activity supporting national "America Recycles Day," an initiative of Keep America Beautiful, observed on November 15, 2022.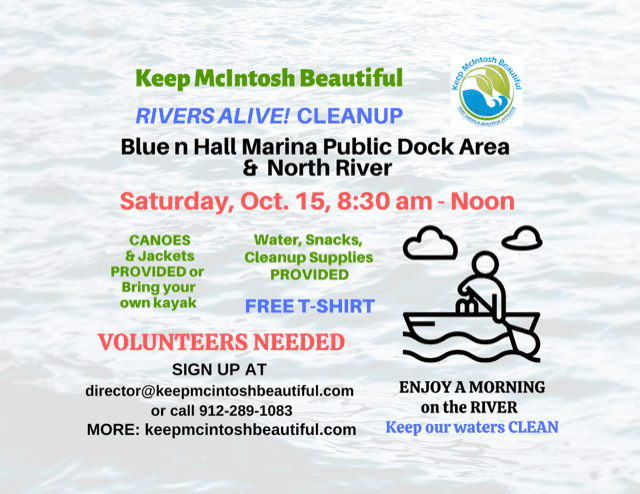 A Big THANK YOU!
More details are on our Home page.
Reusing and Recycling beautifully…
We could use your help with our future events. Contact us today at 912-289-1083 or email keepmcintoshbeautiful@gmail.com
2022 Calendar of Events/Community Activities:
KMB FALL EVENTS
Saturday

, OCTOBER 15
Rivers Alive! Annual Water Cleanup
8:30 – Noon,

Blue N Hall Marina, Darien
Cleanup of Public Docks and
Cleanup and Paddle on the North River
Volunteers Needed    Sign up at:
Saturday, NOVEMBER 12
Annual Community Recycling Event
9 a.m. – 1 p.m.

Oak

Grove Intermediate School 500 Greene St Darien, GA
KMB will collect metal, electronics and
other items at this drive-by collection
event. Plan to participate & keep recyclables
out of the landfill!  All services are FREE
Saturday, DECEMBER 3
Darien Waterfront Cleanup
9-11 a.m., Darien Waterfront Park
Volunteers Needed
Other beautification projects, cleanups, and volunteer opportunities throughout the county are to be announced.
TOGETHER WE MAKE A DIFFERENCE!